I decided to try to replicate a dish that I savored at Maggiano's several weeks ago called Beef Braciole. This dish is to die for and if you ever go there you should give it a try, not to mention their half order portions are big enough for 2! I couldn't imagine what a full-order looks like.
I found a similar recipe on CookingLight and adjusted it a little bit to satisfy my love for lamb and added fresh pasta. When you say lamb most people get freaked out, but it is so delicious and not too different from beef, with a much better flavor. While this dish does take about 8 hours in the slow-cooker it is sure worth the wait because it has a wonderfully rich depth of flavor. We decided to serve it with red-wine pappardelle. Homemade pasta isn't really too difficult to make and I highly recommend it over the dried. I will post a pasta and pizza dough recipe soon, Enjoy!
Lamb Daube Provencal with Red Wine Pappardelle
Ingredients
2 teaspoons olive oil
12 garlic cloves, crushed
1.5-lb lamb meat, trimmed and cut into 2-inch cubes (you could also use chuck roast)

1 1/2 teaspoons salt, divided
1/2 teaspoon freshly ground black pepper, divided
1 cup red wine (I used a malbec)

2 cups chopped carrot
1 1/2 cups chopped onion
1/2 cup less-sodium beef broth
1 tablespoon tomato paste
1 teaspoon chopped fresh rosemary
1 teaspoon herbes de provence

Dash of ground cloves
1 (14 1/2-ounce) can diced tomatoes
1 bay leaf
2 tbsp butter
2 tbsp all-purpose flour

3 cups cooked medium egg noodles (about 4 cups uncooked noodles) We made fresh red-wine pappardelle
Freshly grated Parmesan cheese for sprinkling

Preparation
Heat oil in a small Dutch oven over low heat. Add garlic; cook 5 minutes or until garlic is fragrant, stirring occasionally. Remove garlic with a slotted spoon, and add to slow-cooker.

Increase heat to medium-high. Add lamb to pan; sprinkle with 1/2 teaspoon salt and 1/4 teaspoon pepper. Cook 5 minutes, browning on all sides. Remove lamb from pan and add to slow-cooker.

Add wine to pan; bring to a boil, scraping pan to loosen browned bits and reduce down for 5 minutes.

Add wine, 1 teaspoon salt, 1/4 teaspoon pepper, carrot, and next 8 ingredients (through bay leaf) to the slow-cooker, stirring to combine.
Turn slow-cooker on high for 1 hour, then reduce to low for 6-7 hours more. Or you can just cook on low for 8 hours. It just needs to get nice and reduced.
Melt butter in a small saucepan and add the flour. Cook for 3 minutes and add to slow-cooker to thicken it a bit with the lid off.
Serve over pasta, roasted potatoes, mashed potatoes, or rice. Sprinkle with Parmesan cheese. The possibilities are endless!
Leftovers Idea
: This would also be great for the base of a shephard's pie. Yum!
The "well" method is the best way to make fresh pasta we've found . . .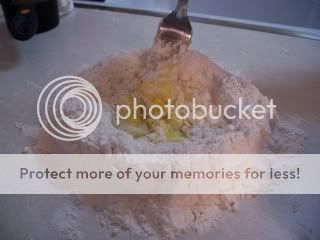 This attachment makes it really easy to roll the pasta, but they also have countertop versions too . . .
This dough turned out pretty sticky for us this time around, so we decided to hang it before boiling so it wouldn't stick . . .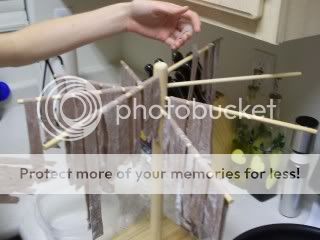 Here are the Nutrition Facts from CookingLight recipe:
Nutritional Information
Yield: 6 servings (3/4 cup stew and 1/2 cup noodles)




Calories: 367 (31% from fat)

Fat: 12.8g (sat 4.3g,mono 5.8g,poly 0.9g)

Protein: 29.1g

Carbohydrate: 33.4g

Fiber: 3.9g

Cholesterol: 105mg

Iron: 4.3mg

Sodium: 776mg

Calcium: 76mg